A Tale Of Two Killers
This weekend in the Premiership saw some killing by killers. Dempsey and Balotelli (who else?) so let us discuss the honors, distinctions and actions that separate these two from the rest and each other.
Mr Sturm Und Drang:
"Woulda Been A Sniper In Harlem"
The Original Winger has got the video of the game cincher, until FOX/Premmie goons take it down, but, "Umm, Yes! More of this." First off, let's talk about the stamp/stomp that was. "Balotelli is dirty," [feigned outrage, rabble-rabble!] "Smarten up, dunny," that just makes his legend grow more. Does he need to sublimate his own strife? Maybe. All he does is seek-and-destroy, he's an agent of chaos that just so happens to be a top 5 talent in the league when he's swimming in anarchy. Dude burns down his house with fireworks hours before the Manchester United match? "WHY ALWAYS ME?", 2 goals and a United pistol whipping, he silenced everyone.
After stamping —aside, Umbro can you make a Balo shirt with Stampy from The Simpsons, kthxbai— Scott Parker, the penalty kick! Oh, the penalty kick! Balotelli's stillness belies the fury and rage of his psychotic emotional maelstrom, watch that video. Watch and know anarchic genius, the mastermind of a pipebomber, of a revolutionary who, more than anything, "Just wants to watch the world burn, Master Bruce." What cause does Balo need beyond humiliating Tottenham? "Keeper is a knocker, check my fake to the right and know my left, son!" Goal. "Audience, you are now my voice." "Spurs? Hate me now."
So sure, Balotelli sublimates and makes manifest his strife, more reasons to love the dude. Jordan sublimated (though not always manifested) maddeningly stupid disses from chumps on the 1991 Timberwolves just so he could win a bet against Pippen. The stamping, yeah, it was dirty, what's your point? Moral indignation? Fury that he wasn't kicked out of the match? He's serving a four-game ban, for what isn't that terrible of a stamp. [SIGH] "Yeah, I know it's still a stamp, you're missing the point." Moralizing? That nonsense is for your churches and temples. Soccer is its own church with its own gods and Balotelli sprang forth from the skull of Cronus fully formed and ready to rule.
"Fuck a Carling Cup. You call me Bawse from now on, I kept you 3 up in the Premiere"
Balotelli is a fire-breathing, thunder and lightning combo of such raw power and cunning that he evades description. Drogba sorta packs the same Nissan truck frame with a bit more speed, but the Cote 'd Ivorian doesn't pack the brains and psychosis of our 21-year-old protagonist. Balotelli, a reiteration, is living the life the rest of us are too afraid to dream, let alone live. If you want your sports figures to be without passion, psychosis, goofiness, god-given talents made manifest in their own time and own way, buy a LeBron #6 jersey, punch yourself in the balls and reup on your Xanax 'scrip.
Real American Hero:
"I Stay Icy On Purpose"
If Balotelli sprang forth from the skull of a Titan, life's manuscript set ablaze with his own Zippo and smiling; Clint Dempsey crept in the backdoor a la Loki from Norse mythology and not Marvel Comics. Dempsey was the second-best child in a family of superstar athletes with a budget to only send one of the gifted children to the Yellow Brick Road of athletic lucre and that was his tennis-playing wunderkind sister. Broken mirrors, broken lives later and his sister is dead and Demps is the benefactor of that largesse and then forges himself into the nastiest American soccer player in a generation (or ever?) The story is the type of Horatio Alger mythmaking that went out of favor sometime between the 1950s and the 1980s (thanks, baby boomers!) but, yet it's there. Trailer park upbringing, teammate's families raising funds so he can stay on the travel team, Furman (Furman?), New England Revolution, to Premiere League. If you're just now catching up with the narrative and the man, note too, Dempsey became the first American player to ever notch a hat trick in the Premiere League this past Saturday.
Goal one was a strictly a "right place, right time" tally, but the other two?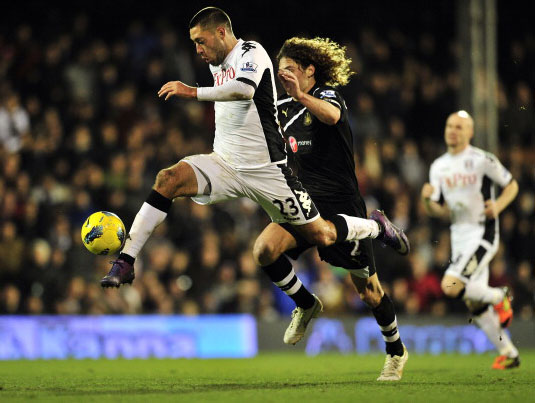 "Don't Have To Go To Church To Get To Know Your God"
"Is Your Majesty Not Entertained?" The Yankee said with a droll affectation.
The other two goals were the sublime notches of a pure scorer. A learned scorer, who, unlike a Balotelli, or more accurately a Messi, honed his craft because he had to to keep up. Apprenticing and working with what raw materials he was given and forging them through external, brutal training and the foundry that a man's soul only burns in the face of personal tragedy. Dempsey occasionally can come across as a bit "Favre-ian"* in his "Aww shucks-edness" and his largemouth bass-catching dreams and pics on Twitter, but never forget that he is an assassin. One who has spent his time learning and snatching at bits of knowledge to make his passes crisper, to make his movements more subtle. Whatever speed he's lost, his knowledge is now paying dividends. He, amongst his multitude of skills, has that "Oh so American!" wolfishness about him, that predatory ability to piker away and then finally to strike and to vanquish.
*By Premiere League standards only.